The 2022 Subaru Love Promise Community Commitment Award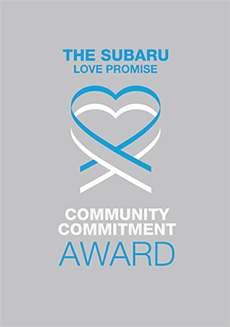 We've been nationally recognized for our dedication to our community and the Subaru Love Promise.
We're honored to receive the 2022 Subaru Love Promise Community Commitment Award. This award nationally recognizes Subaru retailers who are making the world a better place while demonstrating an outstanding commitment to supporting passions and causes in local communities. These efforts are focused in important areas such as the environment, community, health, education, and pets.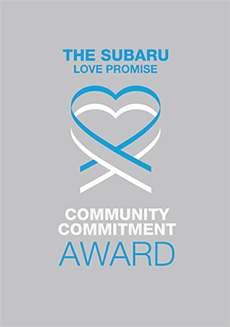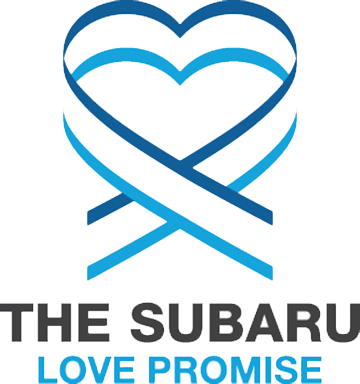 What is the Subaru Love Promise?
Subaru and our retailers believe in making the world a better place and the Subaru Love Promise is our vision of respecting all people. This is our commitment to show love and respect to our customers and to work to make a positive impact in the world.
How is Tri-City Subaru dedicated locally to the Love Promise?
Exceptional customer experiences and community support.
Pope Memorial Humane Society - Cocheco Valley
Monarch School of New England
Wentworth-Douglass Hospital
Love Promise Stories from Tri-City Subaru
Subaru and Tri-City Subaru believe in making a positive impact on the communities in which we live and work. We uphold that belief through our Love Promise Community Commitment. Every month, we select inspiring stories from customers and partners from around our area who strive to support our collective commitment and feature them here
The Great Garlic Mustard Pull - David J
SELT's awesome Tri-City Subaru friends (and their families) came down to our new home at Burley Farms in Epping, NH for a full day of hugely helpful forest floor management. The Tri-City team unleashed their volunteer horsepower to pull the invasive weed, garlic mustard, which is a particularly aggressive plant that can choke out an understory (the layer of vegetation beneath the main canopy of a forest) and negatively impact a forest's health. This type of volunteer activity, in conjunction with the always-impactful Share the Love Campaign, adds up to a tremendous positive influence on SELT's mission to save, share, and steward the lands we all love!

---
Tri-City Subaru Keeps Seacoast Cancer Patients Warm and Cozy - Sarah V
Wentworth-Douglass Hospital is honored to be a recipient of the Subaru Loves To Care initiative. As a nationally recognized community hospital, Wentworth-Douglass has a long history of serving the Seacoast community with compassionate care and innovation, giving our patients access to the best specialized care close to home. The Seacoast Cancer Center at Wentworth-Douglass offers its patients comprehensive, personalized treatment plans and additional wellness services such as music and art therapy, massage, reiki, acupuncture, nutrition and exercise support, physical and occupational therapy, social services, mental health support groups and clinical aromatherapy. These wellness services seek to support our patients and their families through their cancer journey. The Center sees approximately 6,500 patients for treatments and thousands of others for their follow up and survivorship care annually. The largest comprehensive cancer center on the Seacoast, the Center delivers care close to home at the hospital campus in Dover as well as their new facility in Portsmouth. Tri-City Subaru has been an excellent community partner and supporter of the Seacoast Cancer Center. Thanks to the Subaru Loves To Care program and its partnership with the Leukemia & Lymphoma Society, the Cancer Center received a generous donation of 80 warm blankets from Tri-City Subaru, to provide "a little love, comfort and hope" to patients receiving treatment. A cancer diagnosis can be a scary, stressful time. Our hope is that by providing top-notch care from expert providers in conjunction with integrative therapies, wellness and support programs and services, the Seacoast Cancer Center becomes a place of healing and support. The blankets donated by Tri-City Subaru will provide comfort and warmth and become part of a patient's healing process. Thank you to Tri-City Subaru for joining us in supporting patient wellness at the Seacoast Cancer Center!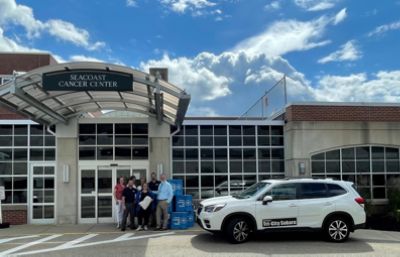 ---
Teachers lunch delivery from Tri-City Subaru - Elizabeth C
From our team to yours, THANK YOU! For some, it was the receiving of an unanticipated gift. For others, it was the act of service – the knowing they didn't need to make a lunch for the next day. For others it was the extra incentive to stop in the midst of a busy season to share a meal with a colleague. For some it was the acknowledgement and affirmation that our work is noticed by others in our community. For each of us, it was an unexpected act of kindness that brought us encouragement and connected our team to your team with appreciation and gratitude. Thank you for the delicious meal and all that it meant to each of us. Sincerely, Team Idlehurst.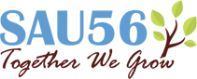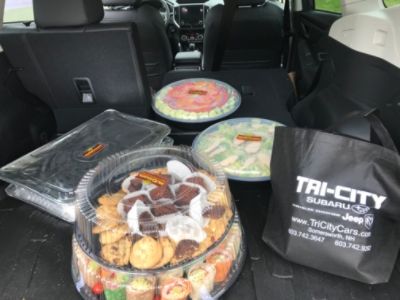 ---
Tri-City Subaru Helps Home Fire Victims - Shannon M
Every day, hundreds of families are devastated by home fires and other disasters that strip them of their essentials—shelter, food, and warmth. In New Hampshire, the American Red Cross responds to these disasters, most commonly a home fire, every 17 hours. Driven by our humanitarian mission, our volunteers meet survivors immediately after a fire- often finding a family grieving the loss of their home, belongings, and sense of security -- sometimes with the only clothes on their backs. Survivors are in a state of shock—unsure of what to do or where to go. Our Teams work side-by-side with families until their needs have been met. Preventing and alleviating human suffering in the face of emergencies is the vital mission of the American Red Cross, and home fires are the most frequent type of disaster we respond to in the state of New Hampshire. We also deliver critical fire safety and prevention tools and information to families and communities, helping to prevent more needless losses. During the month of March – also Red Cross Month – Tri-City Subaru stepped up in a big way to help support our work and home fire clients with a campaign. For each car sold in March, Tri-City donated $25 to the Red Cross and ended the month with a total of $5,745. With this gift from Tri-City Subaru, we will be able to provide direct financial assistance to 9 families. On average, the Red Cross provides $605 in financial assistance to each household impacted by a home fire, but we tailor assistance amounts to family size and livability of the home. Financial assistance is crucial in the immediate aftermath of a home fire when families may lack emergency funds or cannot immediately activate their insurance. This financial assistance empowers clients with the means to purchase what they most need – an important first step toward their longer-term recovery. This partnership with Tri-City Subaru enables the Red Cross to provide critical services to people throughout the Granite State who have been impacted by home fires, along with the lifesaving tools and information to support home fire prevention efforts. The American Red Cross provides all emergency relief services free to residents, and we do not receive annual federal funding. Thank you, Tri-City Subaru, for joining us in saving lives, reducing injuries, and preventing needless losses due to home fires. This gift will help us continue our critical work and keep our lifesaving promise in The Granite State. Because of our partners, the Red Cross assisted Granite Staters in the following ways last year: · Responded to 329 home fires. · Provided support to 142 families affected by a home fire or other disaster. · Provided over $200,000 in Financial Aid to home fire and disaster victims. · Trained over 1,100 youth throughout NH in Emergency Preparedness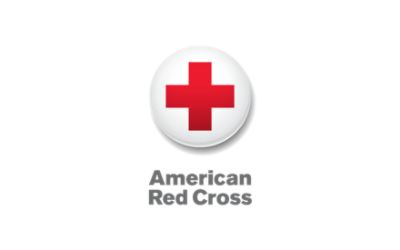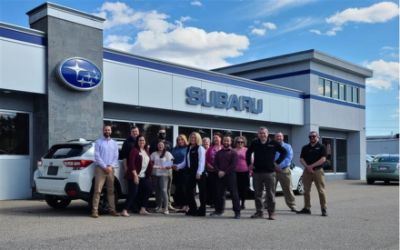 ---
Daisy and her Nine Puppies - Deborah S
Each animal receives an intake examination that includes updating their vaccinations, giving them preventative treatments for heartworm and also for fleas and ticks and spaying or neutering them. For cats the cost is $100 and for dogs it is $200. Every animal is different, and some will only need the basic intake exam while others need significantly more care which can be very expensive which may include dental procedures, surgery, drug treatment to control seizures, or special food to control allergies before they can be adopted. One dog that needed extra care was Daisy. Her story is below. Daisy and Sadie were surrendered together in late December. They were given their intake exams and it was determined that Daisy was pregnant! We immediately scrambled and got her into a foster home so she could destress and get ready to have her puppies. Sadie was able to be put up for adoption and found her new home right away. After being in foster for a few weeks Daisy gave birth to 9 healthy puppies! We had to purchase puppy food and make sure Daisy was fed the right diet to have the energy to feed and care for her puppies. The puppies will be available for adoption in late February and Daisy will be once she is spayed.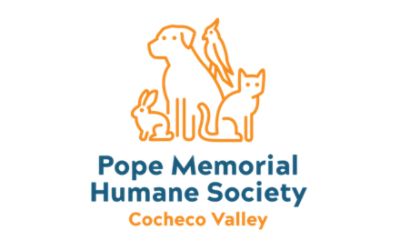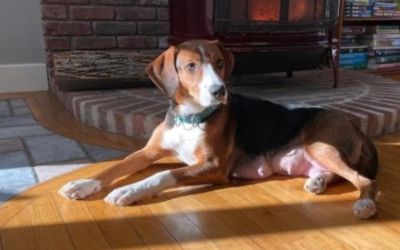 ---
Tri-City Subaru Gives Hope to the Hopeless - Amy P
This winter, Tri-City Subaru partnered with Lydia's House of Hope, a one-of-a-kind transformational home for single women and women with children in crisis, in Somersworth, NH. Residents at Lydia's House voluntarily enroll in a 365-day life-changing program where approximately 40 comprehensive hands-on life and work skill courses are taught each month. The program is a unique and highly effective approach for those who are willing to do the work to change their lives. Lydia's House offers comprehensive counselling and resource advocacy specific to residents' individual needs, a learning center with computer stations, a commercial kitchen, a Planet Fitness equipped gym, and communal dining and living areas. When Tri-City realized that Lydia's House was serving women in crisis in the community in this way, at such a special place - the "House on the Hill" - as locals affectionately refer to the home, looks peacefully out over the Salmon Falls River and Mount Agamenticus, with many a sunset to be seen from the home's well-appointed white wrap-around porch, the dealership reached out to help and offer their support. The bond between the two organizations has continued to grow ever since. Tri-City and Lydia's House of Hope first came together early this winter when the former donated 80 warm, cozy, waterproof blankets to Lydia's House residents and their sister, step-down program, Grace House. Grace House, a newly renovated multi-family apartment building, was added to the program last year. Lydia's program graduates and their families have the opportunity to move into Grace House to live affordably, after successfully completing the year-long program at Lydia's, and to practice both living independently and all the skills they have learned the previous year. This way, families are not forced to return to any toxic environments from which they may have come before entering the initial program, and thus, they are stopping the generational cycle of poverty, homelessness, domestic and/or substance abuse in its tracks - the overriding mission of Lydia's House and their umbrella organization, Seeds of Faith, Inc. Lydia's House was then chosen as the recipient at Tri-City's Giving Tree during this holiday season! What an absolute blessing to the residents there, ages 8 months to 35 years. Some who "can't even remember when..." the last time was, that they had the means to celebrate Christmas. Residents were given a holiday they will never forget thanks to the incredible and thoughtful staff and customers of Tri-City Subaru. The dedicated staff at Lydia's House of Hope and Grace House, who works tirelessly to support the residents and their families, especially around the holiday season to make it a happy one, was so filled with gratitude toward Tri-City management, employees, and all of their clients and customers. The Giving Tree of gifts were placed under the Christmas tree on Christmas Eve; on Christmas morning, it truly was a Christmas miracle for these families. The gifts, and even more so, the sentiment, filled residents' hearts with pure joy. These women knew that someone was thinking about them and caring on this Christmas, and that made all the difference this year. Thank you from the bottom of our hearts, Tri-City Subaru. You do so much good in your community, and we are so glad we found each other! We are looking forward to being your partner long into the future.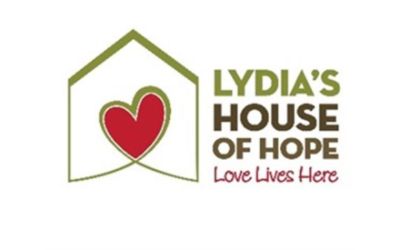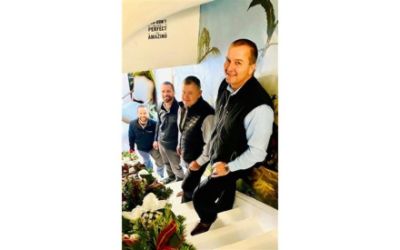 ---
True Community Partners for MSNE! - Amanda M
At the Monarch School of New England, we create unlimited possibilities for students with special needs every day. As a nonprofit day school for students ages 5-21 with significant developmental, medical, emotional, behavioral and physical disabilities, we rely on our supportive community to help us fulfill that important commitment. Within the community, MSNE is very fortunate to work with a number of local businesses who believe in our students and our work, helping them to reach their greatest potential. Tri-City Subaru is, without a doubt, one of MSNE's most committed and dedicated partners! For the past four years, as part of the Subaru Loves Learning Love Promise, Tri-City Subaru has "Stuffed a Subaru" full of school supplies during the month of August to help MSNE start the school year off right. Literally every item on our teachers' and therapists' wish lists is filled, as a result of the incredible generosity of the team at Tri-City Subaru and their fabulous customers. The team at Tri-City Subaru also provides critical learning and vocational opportunities for our students as well. One of our students who is nearing graduation has moved on to paid employment in the industry near his hometown, as a result of the skills and experiences he gained during his first placement with Tri-City Subaru. The team at the dealership is now hosting a second student from the MSNE Vocational Program, providing him with the same great learning opportunities and setting him up for success in his future career as well! And finally, the team from Tri-City Subaru took first place in the 2021 MSNE Golf Tournament - in additionally to generously sponsoring that event. Whether it is spreading the word to "get out the vote" for MSNE in an online contest, participating in fundraising events, or sharing a video / post from social media to help raise awareness - in every way, the team at Tri-City Subaru is always there for MSNE, for our students, and they truly help create unlimited possibilities for students with special needs. Thank you!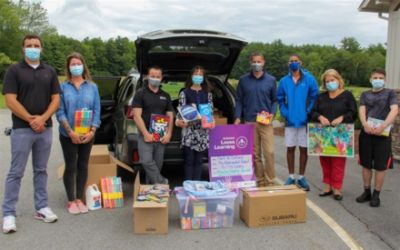 ---
The Shed Move - Sarah N
Pope Memorial Humane Society, Cocheco Valley, is a community-funded, nonprofit 501(c)3 organization. We are dedicated to advocating for the humane treatment of animals in Strafford County, NH, and Southern Maine. We are a safe, temporary home for more than 1,000 surrendered, lost, abused, neglected, or unwanted animals each year. This spring, a gentleman called us and asked if we had use for a storage shed. He would donate his to us so long as we could pick it up. This was perfect since we were already looking for one for our shelter supplies. Our friends at Tri-City Subaru stepped right up to help get that shed from point A to point B. Using the largest flatbed truck they have, Tri-City volunteers gently pulled the shed right up on the truck using it's tow winch and dropped it off at the shelter. It turns out that the gentleman who donated the shed to Pope Memorial Humane Society, Cocheco Valley, is also a long-time customer of Tri-City Subaru! We are so very grateful for the continuous support of Tri-City Subaru. We wouldn't be able to help as many animals and families as we do without the support of businesses like TriCity Subaru. Thank you for your commitment to helping those who cannot speak for themselves and being an active voice and advocate for the safety, health, and wellbeing of animals.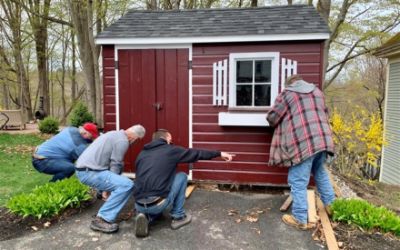 ---
Farm Hands - Clyde F
Clyde Farm Farmington NH. Jimi and Kristen of Clyde Farm acquired this historic 1900's farmland just a few years ago with the help of SELT and conservation efforts. Farmers can always use more support and working hands, so in partnership with SELT and the Clyde Farm, Tri-City Subaru enrolled them as a charitable option for the annual Share The Love campaign. With the help of Subaru and Tri-City over $6,500 was raised for Clyde Farm. On Sunday May 16th volunteers from Tri-City and SELT joined forces to spend an afternoon working the fields with Jimi and Kristen. We helped cultivate some freshly tilled vegetable and flower beds by pulling rocks, spreading compost and transplanting. It was a fun filled warm Sunday afternoon. The kids got to help out and visit the chickens, chicks, baby goats and a rambunctious cow. As a special thanks everyone took home a carton of farm fresh eggs! We wish Jimi and Kristen the best of luck and look forward to another day on the farm.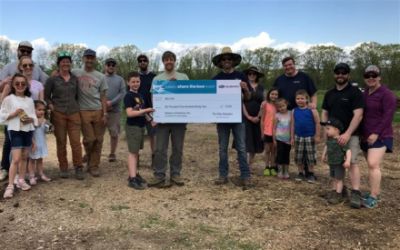 ---
Random Acts of Kindness - Jordan P
Random Acts of Kindness Day - During these challenging times it has never been more important to support each other and those in our community. To celebrate Random Acts of Kindness Day, Wednesday February 17th, Tri-City Subaru chose to surprise some of the local Nurses Doctors and Front-Line Workers with a small treat and a message of support. Tri-City delivered several boxes of safely wrapped sweet treats to a local hospital and several urgent care facilities in the area. On the outside of the boxes members of our staff wrote colorful messages to express support and appreciation for everything these amazing folks have done and continue to do for our community. A few weeks later the dealership was contacted by the director of one of the urgent care facilities. She shared a picture of the empty box still at a nursing station. When she asked her staff why the box was still there the staff's response was that, "it made them happy and more able to get thought he day, seeing the small notes of thanks and support." That shared message from the staff was heartwarming and inspiring to our staff here at Tri-City. May we all exercise a random act of kindness and take care of each other.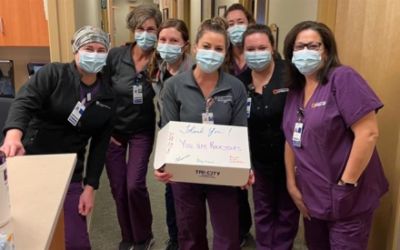 ---