The 2021 Subaru Love Promise Customer and Community Commitment Award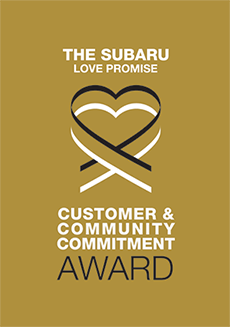 We've been nationally recognized for our dedication to our customers, our community, and the Subaru Love Promise.
We're honored to receive the 2021 Subaru Love Promise Customer and Community Commitment Award. This award nationally recognizes elite Subaru retailers who provide an exceptional customer experience at every interaction with Subaru. These retailers have also demonstrated an outstanding commitment to supporting passions and causes in their local communities in important areas such as the environment, community, health, education, and pets.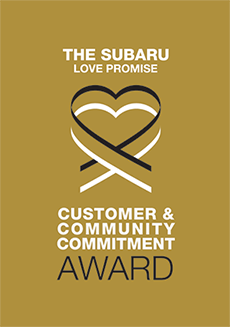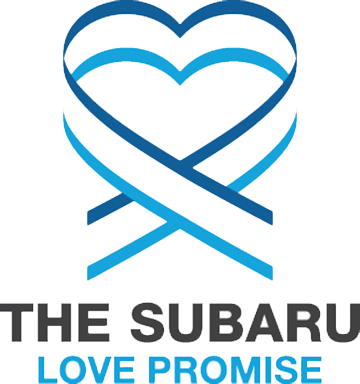 What is the Subaru Love Promise?
Subaru and our retailers believe in making the world a better place and the Subaru Love Promise is our vision of respecting all people. This is our commitment to show love and respect to our customers and to work to make a positive impact in the world.
How is Tri City Subaru dedicated locally to the Love Promise?
At Tri-City Subaru we believe in supporting and giving back to the community that drives us. We do this through our partnerships with local and regional organizations that work for the greater good. Tri-City Subaru directly donates time money or goods and/or aids in directing funds to these organizations through the help of Subaru of America. It is through these efforts that Tri-City helps to build a stronger healthier community. We welcome you to become part of the Tri-City Family and be proud of the businesses you choose to support. Below is a listing of our local and regional partners that we encourage you to explore further.
Pope Memorial Humane Society, Rozzie May Animal Alliance
SELT , White Mountain National Forest
Monarch School of NE, Strafford Learning Center
Goodwin Community Health, Rotary Club of Dover
Frisbie Memorial Hospital, Wentworth-Douglass Hospital
Love Promise Stories from Tri City Subaru
Subaru and Tri City Subaru believe in making a positive impact on the communities in which we live and work. We uphold that belief through our Love Promise Community Commitment. Every month, we select inspiring stories from customers and partners from around our area who strive to support our collective commitment and feature them here
The Shed Move - Sarah N
Pope Memorial Humane Society, Cocheco Valley, is a community-funded, nonprofit 501(c)3 organization. We are dedicated to advocating for the humane treatment of animals in Strafford County, NH, and Southern Maine. We are a safe, temporary home for more than 1,000 surrendered, lost, abused, neglected, or unwanted animals each year. This spring, a gentleman called us and asked if we had use for a storage shed. He would donate his to us so long as we could pick it up. This was perfect since we were already looking for one for our shelter supplies. Our friends at Tri-City Subaru stepped right up to help get that shed from point A to point B. Using the largest flatbed truck they have, Tri-City volunteers gently pulled the shed right up on the truck using it's tow winch and dropped it off at the shelter. It turns out that the gentleman who donated the shed to Pope Memorial Humane Society, Cocheco Valley, is also a long-time customer of Tri-City Subaru! We are so very grateful for the continuous support of Tri-City Subaru. We wouldn't be able to help as many animals and families as we do without the support of businesses like TriCity Subaru. Thank you for your commitment to helping those who cannot speak for themselves and being an active voice and advocate for the safety, health, and wellbeing of animals.
---
Farm Hands - Clyde F
Clyde Farm Farmington NH. Jimi and Kristen of Clyde Farm acquired this historic 1900's farmland just a few years ago with the help of SELT and conservation efforts. Farmers can always use more support and working hands, so in partnership with SELT and the Clyde Farm, Tri-City Subaru enrolled them as a charitable option for the annual Share The Love campaign. With the help of Subaru and Tri-City over $6,500 was raised for Clyde Farm. On Sunday May 16th volunteers from Tri-City and SELT joined forces to spend an afternoon working the fields with Jimi and Kristen. We helped cultivate some freshly tilled vegetable and flower beds by pulling rocks, spreading compost and transplanting. It was a fun filled warm Sunday afternoon. The kids got to help out and visit the chickens, chicks, baby goats and a rambunctious cow. As a special thanks everyone took home a carton of farm fresh eggs! We wish Jimi and Kristen the best of luck and look forward to another day on the farm.
---
Random Acts of Kindness - Jordan P
Random Acts of Kindness Day - During these challenging times it has never been more important to support each other and those in our community. To celebrate Random Acts of Kindness Day, Wednesday February 17th, Tri-City Subaru chose to surprise some of the local Nurses Doctors and Front-Line Workers with a small treat and a message of support. Tri-City delivered several boxes of safely wrapped sweet treats to a local hospital and several urgent care facilities in the area. On the outside of the boxes members of our staff wrote colorful messages to express support and appreciation for everything these amazing folks have done and continue to do for our community. A few weeks later the dealership was contacted by the director of one of the urgent care facilities. She shared a picture of the empty box still at a nursing station. When she asked her staff why the box was still there the staff's response was that, "it made them happy and more able to get thought he day, seeing the small notes of thanks and support." That shared message from the staff was heartwarming and inspiring to our staff here at Tri-City. May we all exercise a random act of kindness and take care of each other.
---
Thank You from Goodwin Community Health - Elizabeth C
Subaru Loves to Care and for the fourth year Tri-City Subaru collected donations for Goodwin Community Health patients experiencing financial hardship. At Goodwin, we believe that every person in our community should have equal access to quality health care regardless of age, ethnicity or socioeconomic status. As a past beneficiary of Subaru's 'Share the Love' campaign, we are so grateful for Tri-City Subaru's continued support of our health, dental, prenatal, behavioral health, substance use, and family support services.
---
Tri-City Subaru Loves Shelter Pets! - Sarah N
Pope Memorial Humane Society, Cocheco Valley, is a community-funded, nonprofit 501(c)3 organization. We are dedicated to advocating for the humane treatment of animals in Strafford County, NH, and Southern Maine. We are a safe, temporary home for more than 1,000 surrendered, lost, abused, neglected, or unwanted animals each year. Since the pandemic hit, we have been unable to hold in-person fundraisers and rely on community support more than ever. With the help our community partners at Tri-City Subaru, we held an adoption drive and adopted out 45 cats and dogs for the month of October and received the maximum contribution of $3100 from Subaru's a dog-a-day campaign! Tri-City Subaru customers, staff, and owners went above and beyond and gave another $1,026 along with an Ascent full of much needed pet supplies! We need these donations for daily operations as we do not receive funding from anywhere else. We also provide toys and games for the enrichment of our shelter animals as well as provide medical care and behavior modification for those that need it. The food donations feed the shelter animals as well as stock our food pantry for our pet food assistance program for members of our community suffering from financial burden. We wouldn't be able to help as many animals and families as we do without the support of businesses like TriCity Subaru. Thank you for your commitment to helping those who cannot speak for themselves and being an active voice and advocate for the safety, health, and wellbeing of animals.
---
SELT Loves Tri-City! - David J
The folks at Tri-City Subaru do EVERYTHING with and for SELT (the Southeast Land Trust of New Hampshire), from helping build trails and kiosks, to sponsoring key events, to sharing SELT's work with their customers. Just a few weeks ago, a team of Tri-City employees came over to help build three kiosks that will be placed on beloved SELT properties, to help ensure safe and enjoyable recreation on our beautiful lands. And this was on a Friday afternoon when everyone else was knocking off for the day! We trust Tri-City Subaru's Team to enthusiastically share SELT's work with customers, friends, and family and are deeply grateful for the many ways they step up to help. THANK YOU for all you do to promote land conservation and outdoor recreation across our communities.
---
Wakefield Parks & Rec Sponsor - Sherry H
For the third year in a row, Tri-City has sponsored the event and entered a team in the Wakefield Parks and Rec Annual Benefit Golf Tournament. This event is the most lucrative fundraiser for the department and is a huge help to keep the programs and events going strong. Thank you Tri-City Subaru!
---
Thank you from the Monarch School of New England! - Amanda M
For the third year in a row, the Monarch School of New England was honored to be the beneficiary of Tri-City Subaru's "Pack a Subaru" event during the month of August. This special event is part of the Subaru Loves Learning initiative! Tri-City Subaru and its community members generously donated a full car of needed school supplies and cleaning supplies, to help students at the Monarch School of New England get off to a great start during this new school year. Students now have the resources they need to continue their education safely - wherever learning needs to safely take place. In these uncertain times due to COVID-19, this support means more than ever! Thank you! The Monarch School of New England would also like to thank Tri-City Subaru for always being there for our school! In the past year alone, Tri-City Subaru has supported community events, like the Golf Tournament at Monarch, helped spread the word to vote for Monarch in community contests, raised awareness of the school's work, and best of all - provided an incredible vocational learning experience for one of our students! Truly, thank you for all that you do! It is because of incredible community partnerships, like Tri-City Subaru, that the Monarch School of New England can do its important work - to provide unlimited possibilities for students with special needs. Thank you!
---
Sharing the Love with Local Breast Cancer Patients - Jennie H
What does is look like to share nearly $25,000 with local breast cancer patients? It means that: 50 newly diagnosed patients got a care package filled with information on local cancer resources and comforting gifts, such as a journal to write notes at appointments and a scarf to keep warm. 25 families received gas and grocery gift cards so they could feed their family and make all the needed trips to their cancer center. 15 patients got help with their rent or mortgage while juggling their high medical bills.10 families got heating fuel to stay warm this winter.12 children received books to help them cope with a parent fighting cancer.5 families got help with electric or other household bills. 3 patients got car repairs so they could get to treatment. 2 patients got to connect with fellow patients at a breast cancer retreat and 2 more patients got scholarships to wellness programs to maintain their strength. My Breast Cancer Support provides financial and emotional support to patients as they undergo treatment. However, we couldn't do all that we do without Tri City Subaru's generous spirit in sharing the love! A breast cancer diagnosis often leaves patients feeling alone, overwhelmed with financial worry and scared about their health outcome. By easing expenses, connecting them with others who understand the position they're in and taking worries off their plate, we help them focus on the most important thing…getting well! Thank you Tri City Subaru!
---
Thank You From Rozzie May Animal Alliance!!! - Molly O
Rozzie May Animal Alliance would like to thank Tri-City Subaru for choosing our organization to support during their Subaru Loves Pets Month in October! Patty, Robert, and all of the staff are absolutely wonderful! We have never had a business that has invested in us like Tri-City has. Thank you so much!! There was so many donations from the supply drive we had to completely rearrange the storage shelves to make enough room. And even then more kept arriving by mail. Not to mention that they hosted two clinics for us and sponsored a Pet CPR Course. They are so amazing that after hearing we had a new need they jumped right on it. The old vacuum was probably made before I was born and when it finally died it was probably a blessing. With as tight as the money always is we could not justify a new one. Robert donated the money on the spot. When I told the crew we could get a new old everyone was absolutely speechless. I wish I had better words to express our gratitude. Tri-City Subaru has made a huge impact on our little organization and for that we are truly thankful!
---
Thank you from the Monarch School of New England - Amanda M
The Monarch School of New England (MSNE) is a nonprofit, specialized, day school for students ages 5-21 with significant medical, developmental, emotional, behavioral and physical disabilities, located in Rochester, New Hampshire. MSNE has been honored to be selected twice as the beneficiary of Tri City Subaru's Subaru Loves Learning Pack an Outback Event! Our students received the supplies they need to start the school year off right. And, the team from Tri City Subaru placed 2nd in the 2019 MSNE Golf Tournament, as well as sponsoring that event. Thank you for all of your generous support. MSNE is also very grateful to Tri City Subaru for their partnership with the school's Vocational Program. One of MSNE's students, Cam, participates weekly in work-based learning at Tri City Subaru, learning valuable skills and gaining experiences to prepare him for meaningful, productive employment after graduation. The following was written by Cam's teacher, Skylar, about his experiences at the dealership: "Being the bright, organized, and social young man Cam is, his role at Tri-City Subaru paired with incredible supervisor support seemed to be a natural fit right off the bat. At this time Cam is sorting mechanical parts in the service department, matching the parts code to where they belong in the shop, and working closely with his supervisor to get the job done. During his time working at Tri-City Subaru, Cam has become more successful with number and letter identification, has built up an increased tolerance to longer work times, and has developed trusting relationships with the staff in the department. On Monday mornings, Cam asks to go through his Tuesday schedule to make sure that we have not forgotten about his work at Tri-City Subaru. Come Tuesday after he has finished a morning of work, Cam is already reminding us of his work for the following Tuesday. This partnership is not only a positive experience for Cam, but it is one that seems to be the highlight of his week. Cam's role has allowed him to hone in on his strengths in a professional setting while learning new skills he can carry over in the classroom and eventually into adulthood." Tri City Subaru is an incredible partner, truly invested in supporting our students and our school. The Monarch School of New England could not fulfill its commitment to provide unlimited possibilities to students with special needs without its supportive community businesses, like Tri City Subaru. Thank you for all that you do!
---
Superb!!! - Judy B
I can't say enough good things about this dealership. We have owned 5 Subaru's. Each and every purchasing experience has been a excellent experience. The service department goes out of their way to be supportive and helpful. It is due to the outstanding treatment that I receive that I will continue to do business with this facility.
---
End 68 Hours of Hunger Check Presentation - J P
Tri-City Subaru Loves To Care – The pinnacle of the 2018/2019 Share The Love event is when we actually get to hand over the proceeds to the charity and allow those dollars to go to work! Tri-City recently presented End 68-Hours of Hunger with a check for $36,723 thanks to the generosity of Subaru of America, our customers and the dealership's contribution. 100% of the proceeds go directly to the purchase of food for local children who face food insecurity at home. Please help us continue to support this cause by dropping off food donations at Tri-City in Somersworth NH, we've delivered three car loads of food so far and aim to keep it rolling because for this charity there is no end to the support that is needed.
---
Helping End Hunger - J P
Tri-City Subaru Loves To Care…The 2018 Share The Love event was one of Tri-City's most successful campaigns! 'End 68 Hours of Hunger' was our charity partner for this year's event. End 68 Hours of Hunger is a non-profit charitable organization focused on addressing the approximately 68 hours of hunger that some school children experience between the free lunch they receive in school on Friday and the free breakfast they receive at school on Monday. This food insecurity is a problem that affects approximately 25% of children and has a profound impact on a child's focus, learning ability and behavior. Tri-City's partnership with 68 Hours of Hunger supported locally the Dover, Rochester, and Somersworth programs. Together with the 68 Hours of Hunger program coordinators, our sales customers directing Share The Love funds to 68 Hours of Hunger, our staff donating and packing food, and Tri-City donating additional proceeds we were able to support 68 Hours of Hunger with a donation of over $30,000. An amazing amount of money but the reality is….the need for donations never ends for this organization and that's why Tri-City elected to be an official drop-off location for 68 Hours of Hunger, so please stop by and donate, help us pack an Outback with food again and again!
---
Blood Drive - American Red Cross - J P
Tri-City Subaru Loves to Care and hosted their second blood drive of 2018 to support the American Red Cross. The need for blood donations is ongoing so finding facilities to host and promote blood drives is essential for the Red Cross. Tri-City offered up the entire service department drive-in for this recent blood drive. The extra space allowed for more beds and capacity and the Red Cross was able to collect 60% more than our first blood drive. Tri-City has agreed to two blood drives per year with the local Red Cross so stay tuned for date and time communications for future events!
---
Trail Work – Stonehouse Pond - J P
Tri-City Subaru Loves Earth and was at Stonehouse Pond in Barrington NH again clearing debris from the newly cut trail that goes to the cliff overlook. The Tri-City crew hauled off the big debris last visit, this visit we cleared the low lying leaves and twigs on the trail with the help of some high powered backpack blowers. Using blowers is best for erosion control because we are not raking or scratching the underlying earth. SELT and crew have been working hard around Stonehouse Pond, there are several new bridges and trail markers on the trees. Get out and explore Stonehouse! More trails coming….
---
Monarch School of New England - J P
Tri-City Subaru Loves Learning and recently partnered with The Monarch School of New England located in Rochester, NH. The Monarch School is a non-profit, specialized day school offering academic, therapeutic and functional life skills for students with significant developmental, physical, emotional, behavioral and medical disabilities. Tri-City Subaru offered to help collect much-needed school supplies in conjunction with the 'Subaru Loves Learning' initiative. The event was a huge success with Tri-City filling a Subaru Outback with school supplies and delivering to the school. "This was a successful Subaru Loves Learning campaign with the Monarch School. It worked out well, they gave us a wish list and we collected exactly what they needed! When we dropped off they gave us a tour of the new facility and we met some of the students." Robert Arthur, Tri-City Subaru.
---
Conservation Trail Work @ Stonehouse Pond - J P
Tri City Subaru Loves The Earth. Continuing Tri-City's commitment to SELT and the Stonehouse Forest project a group of employee volunteers gathered at Stonehouse Pond, Barrington NH on a Sunday morning in July to clear debris from a newly cut trail. Battling the heat, humidity and nest of pesky stinging bees the volunteer crew conquered the winding trail all the way to the top. Land managers are in the process of redirecting hiking traffic away from an old trail located in the riparian zone, or water's edge. The old trail was created by recreational users and not by landowners. It is too close to the water's edge impacting wildlife habitats, contributing to erosion and is poorly routed staying muddy throughout most of the year. The newly cleared tail treks thru higher ground of hemlock and hardwood forest and leads to a beautiful rock ledge overlooking the pond and surrounding hills. With the trail debris now cleared recreational users can begin using the new trail and land managers can begin closing the old trail along the water's edge. SELT (South East Land Trust) was Tri-City's 2017/2018 'Share The Love' partner and Tri-City continues to work with them to expand the recreational use of the land and supporting efforts to conserve it for future generations.
---
Save A Life – Give Blood - J P
Tri City Subaru Loves To Care and hosted a Red Cross Blood Drive July 14. A Red Cross representative approached Tri-City on short notice as their other arrangements fell thru. Right away Tri-City offered its facility to host the event. More than half the showroom and several offices were used for patient intake and donation beds. From 10am till 3pm there was a constant flow of Tri-City employees and general public coming in to donate blood at a time when the need for blood is very high. Tri-City was pleased to help and has committed to hosting future blood donation events for the Red Cross.
---
Run Doggy Run - J P
Tri-City Subaru Loves Pets and Running and Cocheco Valley Humane Society! So when it was time to partner up for the local "Tails 2 Trails" 5k road race and dog walk the Tri-City crew was there to help out. We helped to broadcast the event our our social media channels and promoted it by "Filling A Forester" with pet supplies and wish list items for Cocheco Valley Humane Society. The 5k race was a hit and the dog walk around downtown Dover overflowed the sidewalk. A great time was had by all! Happy Tails & Happy Trails. Cheers!
---
Earth Day 2018 @ Stonehouse Pond ! - Jordan P
Tri-City Subaru employees along with local SELT'ies joined forces to celebrate Earth Day 2018. The morning kicked off with a trailhead kiosk dedication to Tri-City Subaru and a check presentation to SELT for the funds generated during the Share The Love campaign; $29,347 was raised to help preserve & protect the new 1500 acre Stonehouse Forest project. But this was more than fun and games – this volunteer crew was ready to work! One crew worked alongside the entry road pickup up litter and debris. And in the woods the remaining volunteers were a force to be reckoned with, like a swarm of locusts, the entirety of a new recreation trail was cleared of logs, sticks, undergrowth and raked clean in a matter of hours. It was a beautiful 55 degree sunny spring day and an excellent way to spend Earth Day. Tri-City has more work days planned with SELT to continue protecting and improving the Stonehouse Pond & Forest area. Stay tuned for more information and please come out and join us !
---
Care Bags For Kids - J P
Tri-City Subaru showcases its commitment to the 'Subaru Loves to Care' initiative with another round of Care Bags for Frisbie Memorial Hospital. Employees packed small gift bags with snacks, small toys and activities geared towards keeping kids minds occupied when they find themselves in the Emergency Room. "This is the second time we packed and delivered these care bags to Frisbie Memorial Hospital. With some input from the nursing staff we built on our last round of bags and made this batch especially for the children in the ER. The nurses were especially thankful and shared their positive experiences with us. These bags help to ease children's mind, make them brave and put a smile on their face.I'm grateful for the help my team lent putting these together and for a great partnership with Frisbie Memorial Hospital." Jordan Plante, Tri-City Subaru General Manager.
---
The Battery - Rob v
On a cold winter day in a series of very cold days my WRX wouldn't start. I jump started it, drove to Tri City Subaru spoke with service rep and within no more than 30 minutes was back on the road with a new battery! Couldn't ask for better service!
---
Pack An Outback - A I
Tri-City Subaru loves learning and understands that those doing the learning need to have the right tools to succeed. This past August Tri-City Subaru put 'Subaru Loves Learning' into action by partnering with Idlehurst Elementary School in Somersworth NH. "We thought doing a school supplies drive was a great way to collect items that the local elementary school and the students needed and the turnout was outstanding" Jordan Plante, Tri-City Subaru. To kick off the school supply drive Tri-City commissioned the art students at Idlehurst to paint a canvas that was hung up in the showroom on display, it was great to see the kids eager excitement and creativity, the canvas really added a hometown feel to the whole event. We nicknamed the event "Pack An Outback" and by the end of the month the back seats were folded down and the Subaru Outback was nearly full of a wide variety of school supplies. Everything was delivered just in time for the start of the school year. Special thanks to the 5th grade art students, the Idlehurst administrators and to our Tri-City employees and customers who donated so many school supplies!
---
Health Care Affordable For All - Jordan P
Subaru Loves to Care and Tri-City Subaru wanted to highlight and help the good work that is being done by Goodwin Community Health in our community. Goodwin Community Health is the only not for profit Federally Qualified Health Center in the local area that provides primary care, dental, prenatal, and behavioral health care as well as community wellness and public health services. Goodwin believes that every single person in our community should have equal access to quality health care regardless of age, ethnicity or social-economic status. To support Goodwin, Tri-City Subaru partnered with them for two consecutive years during Subaru's annual 'Share The Love' campaign. Together with our customers Tri-City has directed over $50,000 to Goodwin Community Health so they can continue providing the much needed health services to our community.
---
Bubbles The Big Blue Dog - Jordan P
Tri-City Subaru displayed its commitment to the 'Subaru Loves Pets' initiative by hosting the national Bathe-To-Save Tour. The Bathe-To-Save tour is traveling nationwide hosting events to raise money and awareness for animal rescue groups. They are on the road in a forty foot motor-home with "Bubbles" in tow. "Bubbles," is a mobile dog wash and grooming unit that makes it all possible. By washing dogs and collecting donations the Bathe-To-Save tour collects donations and returns them directly to the local humane society. Tri-City involved Cocheco Valley Humane Society for this event and was able to help generate a sizable donation and a Subaru Forester full of pet supplies and foods. This was a big event at Tri-City with hundreds of people attending, countless dogs and many local vendors. The event at Tri-City was so successful it set the new record for most dogs washed in a day by the Bathe-To-Save crew. At Tri-City we love being involved in the community and we love pets. This event was a perfect fit and turned out to be our biggest event to date, we were honored to host it and facilitate a huge turnout.
---
Kancamagus Highway - Keeping It Beautiful - White M
Tri-City Subaru Loves the Earth and volunteers for clean-up day in the White Mountain National Forest. To help insure these protected lands are beautiful for generations to come Tri-City sent a group of employee volunteers to clean-up along the famous Kancamagus Highway on what turned out to be a gorgeous sunny day in the White Mountains. After a morning briefing at the Saco Ranger station the volunteers got geared up and hit the road picking up litter and debris. By midafternoon the volunteers had covered over 6 miles of the Kancamagus Highway and collected 30 bags of trash. The efforts were rewarded with a BBQ lunch and a dip in the crisp Swift River. Thank you to the Tri-City Subaru volunteers and to the White Mountain National Forest for assisting this effort.
---
Care Bags for Frisbee Memorial Hospital - FM H
Tri-City Subaru showcases its commitment to the 'Subaru Loves to Care' initiative by supporting Frisbee Memorial Hospital. Tri-City built 'Care Bags' for Emergency Department patients geared towards those in need and also for children who find themselves in the ER. The Care Bags included basic toiletries, fresh sox, snacks, plus some toys, treats and coloring books for the children. "We wanted to put the 'Subaru Loves to Care' initiative into action and have a positive impact on the health and wellness of the local community. We came up with the idea of Care Bags for hospital patients in need and Frisbee Memorial Hospital greeted us with open arms. I thank our Tri-City staff for helping build the bags and to the Frisbee emergency department team for helping us unload and being so appreciative. We hope the care bags are well received by the patients and can make their ER visits a little less stressful." Jordan Plante, Tri-City Subaru General Manager
---
Piggly Wiggly - Jodi C
Subaru Owners Love Pets and the pets love their Subaru's! At Tri-City Subaru we were just pleasantly reminded that you never know what to expect to find in the back of a Subaru! It started as a Facebook contest to post your best pet in the Subaru photo, Tri-City donated pet toys to Cocheco Valley Humane society for every photo submitted and awarded the winner with a Thule Kayak rack. Scanning the photos to select the contest winner we had to pause, back it up a few slides and do a double take. Was that a pig? That's a pig! Sent in by Jodie from Moultonborough, NH from her Subaru Outback with Arnie the pig inquisitively staring at the camera from the back seat. Great photo and an instant winner. Thank you to all the Subaru pet owners for submitting their photos we had a great time looking at all of them. Tri-City invited Jodie and Arnie to the dealership to pick up their new Thule Kayak Rack prize and also so we could meet the socially affectionate potbelly piggy. It didn't take long for our employees and customers to gather around and experience Arnie's thick tough skin, course hair and his wet velvet soft pink nose. Arnie was eating up all the attention he could get! Turns out Arnie has the lay of the land at home on the farm he shares with two dogs and a flock of chickens. He is house trained and loves to snuggle onto his own futon, lucky pig! Thank you Jodie & Arnie for sharing Subaru's love for pets with us we thoroughly enjoyed the photos and the visit.
---
Buzz Cuts for Childhood Cancer Research - Clyde B
Subaru Loves to Care The statistics surrounding children and cancer are scary. A child is diagnosed with cancer every 2 minutes and more children are lost to cancer than any other disease. The positive spin is that cancer research is leaps and bounds ahead of where it was many years ago and most children with common cancers now survive. But there is still more research and work to be done, especially in the realm of childhood cancer. Fortunately there are programs and organizations out there that support cancer research and specifically childhood cancer. St. Baldricks Foundation is the largest private funder of childhood cancer research. Tri-City Subaru was awakened to the realities of childhood cancer when our long time Service Advisor, Clyde, came to work one day with a freshly shaved head. Almost unrecognizable a few of us snickered him about his new look, but we were humbled when he told us the reasoning behind it. As it turns out the St. Baldricks Foundation holds Head Shaving Events across the country to promote awareness and raise much needed funds that go directly to childhood cancer research. Clyde was brave enough to step up and get his head shaved help raise donations and awareness. Tri-City Subaru would like to formally thank Clyde for raising the awareness to this need. Tri-City has also followed up with a donation of our own to the St. Baldricks Foundation for all the good work they do. Visit www.stbaldricks.org/ for more information.
---