Learn More About Your Somersworth Subaru Dealership Serving Dover, Rochester, Barrington and Berwick ME

The Tri-City operations in Somersworth NH originated back in 1965 by Rene Plante.  The Subaru franchise was acquired in 1977 and was one of the original Subaru dealers in New England.  Rene's sons Roger, Ken, and Steve Plante were involved in the operations from a young age and eventually took over as the second generation of ownership.  Representing the third generation of family management is Jordan Plante who joined the operations in 2015 and progressed thru the dealerships to his current role as General Manager.   Rene and family always wanted to be more than just a car dealer.  They operated the business with many long-term employees, a high level of integrity and community involvement.  Rene believed that it was the community that fueled the success of the business and that it was only right to return that with goodwill with community involvement and Tri-City continues to operate with those original philosophies today. 
Tri-City Subaru's business has grown substantially over the years.  The building has been expanded several times and now offers a large showroom, modern customer lounge, high-capacity service department, and a weatherproof drive-in service area for drop off and pickup.  Their employee body has grown with the business and Tri-City Subaru now employs a diverse workforce of over 65 hardworking local men and women.
Tri-City Subaru's integrity, reputation and local feel is second to none and is something that is becoming harder and harder to find in today's automotive world and something we have worked hard to earn.  It has been the original core values and focus on customer service that has guided our success.  Word-of-mouth is the best kind of old-fashioned advertising, and we thank our loyal customers for helping us grow. 
In July of 2021 the original Plante family transitioned the business to new ownership.  Tri-City selected and welcomed the new owners David Rosenberg, Rick Bickford, and Mike Bickford who collectively have an extensive automotive history and depth experience that will successfully lead Tri-City for many years to come. Because of Tri-City's loyal customers and local reputation the business name was not changed and continues today as Tri-City Subaru and Tri-City Chrysler Dodge Jeep Ram.  Jordan Plante continues overseeing the dealerships as General Manager and the Sales and Service teams you have come to trust and rely on are still here.  
The new owners have embraced what Tri-City is all about and fully support our focus on our employees, exceptional customer service, and building long-term customer relationships.  As well as the belief that community involvement is the responsibility of any successful local business.  With the new owners Tri-City Subaru continues to be heavily involved sponsoring local sports teams, charities, and local activities. We invite you to experience all that we do
here on our Love Promise page
.
Subaru of America has recognized Tri-City Subaru with the prestigious Love Promise Gold Award for outstanding Customer & Community Commitment for multiple years. 
And Tri-City has twice been awarded as Subaru of America's 'Love Promise' Nationally Recognized Dealership. 
We invite you to visit us and experience our people and the Tri-City difference.  We continue to service the Tri-City area comprised of Somersworth, Dover and Rochester and have a vast customer base that stretches the New Hampshire Seacoast into the Lakes Region and throughout Southern Maine.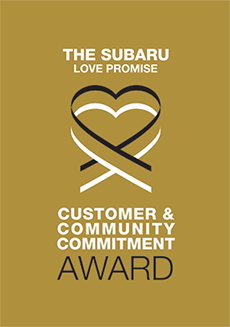 At Tri-City we understand that consumers have nearly endless options for vehicle Sales & Service.  All we can ask is for your consideration when purchasing or servicing your vehicle.  We believe that once you visit our facility and interact with our people you will experience the difference that makes Tri-City, Tri-City. An honest time tested customer first business experience.  We hope to earn your business and your trust. 
Here are a few of the many Charities/ Causes Tri City Subaru supports:
American Cancer Society
American Red Cross
American Heart Association
Art s in Reach
Charity Projects Entertainment Fund
Dover Children's Home
Dover Little League
Dennis Flanagan Sports Scholarship
Hyder Family Hospice House
Make- A- Wish Foundation
National Automobile Dealers Charitable Fund
National Multiple Sclerosis Society
Portsmouth Christian Academy Annual Fund
St. Thomas Aquinas High School
Seacoast Hospice
Seacoast AAU Basketball Program
Seacoast Young Life
Somersworth Main Street Program
Somersworth Youth Baseball League
The Jimmy Fund Dana- Farber Cancer Institute
Wentworth Douglas Hospital & Health Fund
Wentworth Homecare Hospice